Age made the difference in Verona and Lexington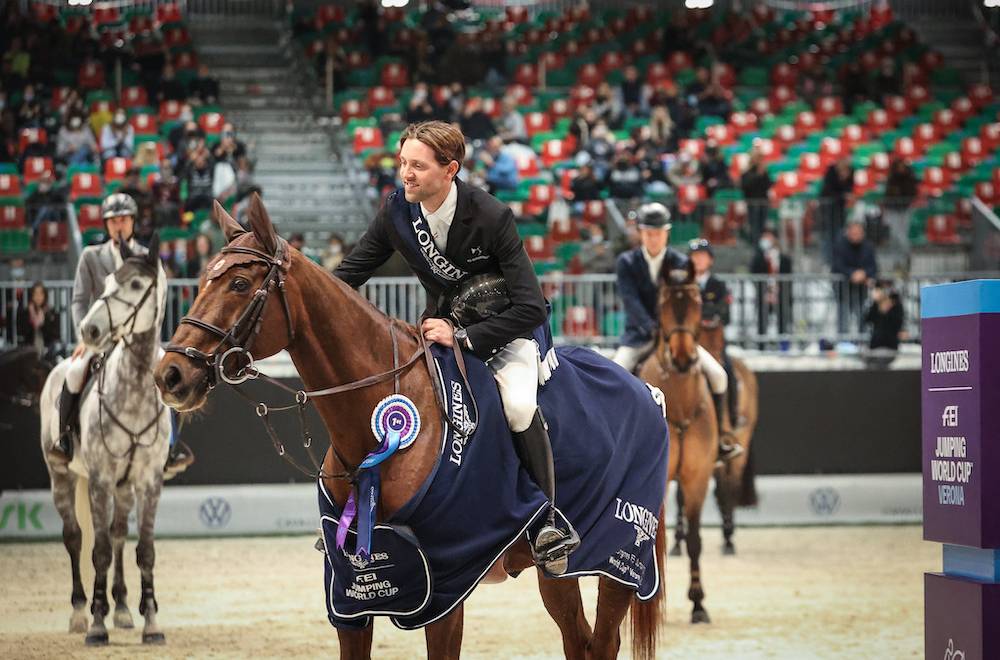 08 November 2021
The days are getting shorter, and the weather is getting grayer, but the World Cup circuit and its different leagues are in full swing! The third stage of the Western European League, in Verona, crowned the small but agile Hermes Ryan ridden by Simon Delestre, while in Lexington, Kent Farrington won with Gazelle.
There are horses that make their mark on the sport by their combativeness, others by their longevity... Hermes Ryan combines both! Simon Delestre's star little mount, who already won an interim event last week at the CSI5*-W in Lyon, is in great shape at the age of 16 and won the World Cup stage in Verona this Sunday after an incredible jump-off. It was an emotional victory for his rider and his entourage since the son of Hugo Gesmeray had not won a 5* Grand Prix since 2019. "It is amazing that he can win again here at his age! I have been so lucky to have him with me for all these years, and I will not have another horse like him again!" said the rider after his victory. "Ryan has won or was on the podium of most of the big Grand Prix competitions around the world and it feels so good to win here again six years after the last time (editor's note: the pair already won this World Cup stage in 2015), and to have him in such good shape!"
Six years after their first victory in Verona, Simon Delestre and Hermes Ryan have once again won the Italian World Cup stage ©FEI/Massimo Argenziano
Fast, explosive, respectful... The little chestnut showed his many talents to win this Uliano Vezzani-designed event, beating the young German rider Kendra Claricia Brinkop who placed second with Kastel Memo (Thunder Van De Zuuthoeve), and Denis Lynch who was third with GC Chopin's Bushi (Contendro II ). The Irishman, who had already collected points on the circuit in Lyon, is now sitting in fourth place in the rankings that are still dominated by Kevin Jochems, who is comfortably installed in the lead following his victory in Oslo and his seventh place in Lyon. We'll now see you in Madrid from November 22nd for the rest of the circuit!
Better to be safe than sorry
While the European riders were meeting in Verona, on the other side of the Atlantic, the fourth stage of the indoor circuit of the North American league took place in Lexington. The initial course allowed 9 pairs to qualify for the jump-off, but only one managed to repeat the perfect course that is synonymous with victory. Kent Farrington, who was able to count on his faithful mount Gazelle (Kashmir van Schuttershof), made the American anthem ring out at the end of a jump-off whose scenario undeniably played in his favor. The American rider was the second to last to start, and his competitors were fighting it out with each other to try to lower the time... without ever completing a clear round! It was valuable information that allowed him to adapt his strategy. "I only had one rider after me, so I thought a neat clear was a smarter play," said the winner, who was able to count on Gazelle, who is now 15 years old, still as respectful as ever and in great shape (so much so that the rider lost a stirrup in the initial round!)
In Lexington, Kent Farrington and Gazelle were the only ones to achieve a double clear round in the World Cup Grand Prix! ©FEI/Andrea Evans
For eight years the pair have evolved together and tread the most beautiful arenas in the world, and the bay's demonstration in the arena predicts great things are still to come! "This is an experienced horse. She's been an amazing horse for me and my career. Robin Parsky has been supportive of my management of this horse, and that's part of what has made her last so long."
Featured photo: After several seasons without a Grand Prix victory, the emotion was palpable for Simon Delestre after his first place with Hermes Ryan in the World Cup Grand Prix in Verona ©FEI/Massimo Argenziano