Aganix du Seigneur and Dollar du Rouet, sires of the Z Festival champions.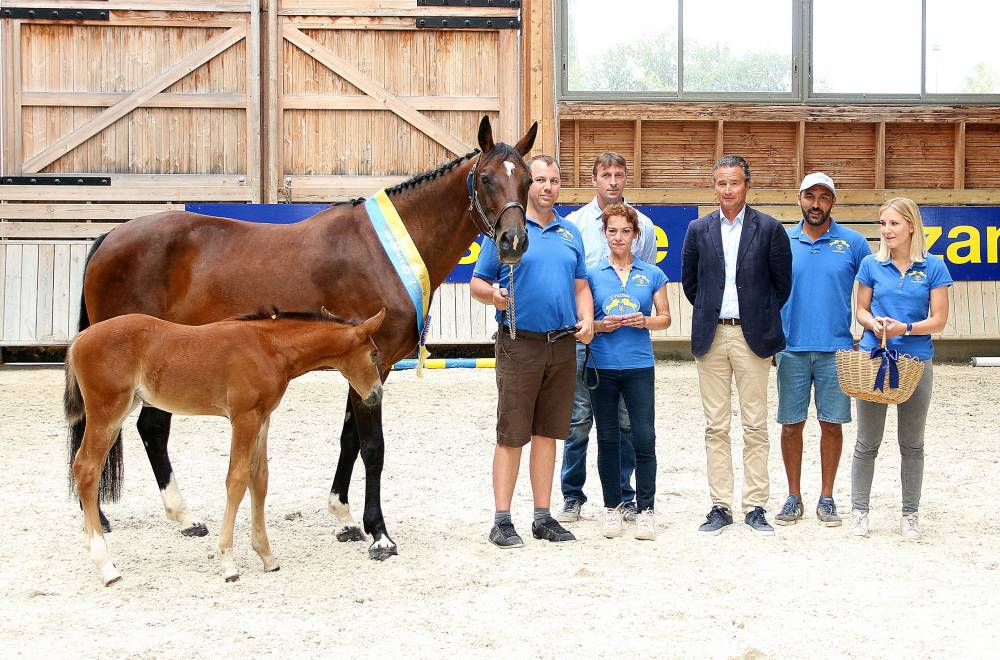 15 July 2019
Among the males, victory went to Du Rouet Z (Dollar du Rouet x Mr Blue), from a pedigree that includes Kraque Boom and Lady in Blue. He was favoured over Casall du Forezan Z (Casall x Vigo d'Arsouilles), out of a uterine half-sister of VIP de Forezan from the line of Fragance de Chalus... as was the fifth-placed foal, Caravaggio Chalusse Z (Comilfo Plus Z x Vigo d'Arsouilles). Hastings Pequignon Z (Heartbreaker x Bamako de Muze) was third, ahead of Flynn de Will Z (For Pleasure x Cornet Obolensky).
Among the females, the youngest of them, Anelba de l'Eridan Z (Aganix du Seigneur Z x Visage van de Olmenhoeve) won the supreme title. She leads Caribbean Rose Magel Z (Cornet's Fire Z x Sereno) and Ultrajoy du Burguet Z (Untouchable x Chacco Blue) who completed the podium. Chelsea Deforcelles Z (Cicero Z x Parco) placed fourth, while a daughter of the star Electra van't Roosakker, Bella Electra DK Z (Black Cera DK Z x Carthago Z) took fifth place.
It was a wonderful day for the winner's breeder, Marc Boughedada (59): "It was a magical weekend and the victory brings an even more extraordinary touch, especially since we didn't really expect this filly. Last year, we chose Brunetti as a mare... but she never got pregnant. A little in despair, we changed our plans and on August 1st, 2018, we used a straw from Aganix du Seigneur... and boom, the mare was pregnant. However, for a filly to be able to participate in the Z Festival, she had to be born before July 3... so she has always challenged the limits since birth. Here, as she was very young, I decided to come earlier so that she could have time to recover before Sunday. We came with three foals.
"In fact, I didn't even know what the Z festival was. It was when I bought the mare that her owner told me about it. Her 2017 filly, Cassandra M'Aurea Z, who was a Crown Z daughter, had won the first edition of the Z Festival in France. So, I participated last year and it was a revelation for me. I achieved this without any ambition, and I left very motivated. It was the right studbook for me. Their organization and dynamism are perfect. We also really have to thank Séverine Léger, who is the perfect link between the Z and the breeders. Since then, I have bought several broodmares and fillies with good pedigrees to develop my breeding. I am a nurse in life and I only breed on a small scale, but we have about ten horses at home with lines of Qerly Chin, Bubalu, Fany du Murier and Gerbe d'Or."