Access now to the catalogue of the Ekestrian Elite Auction on October 26th & 27th!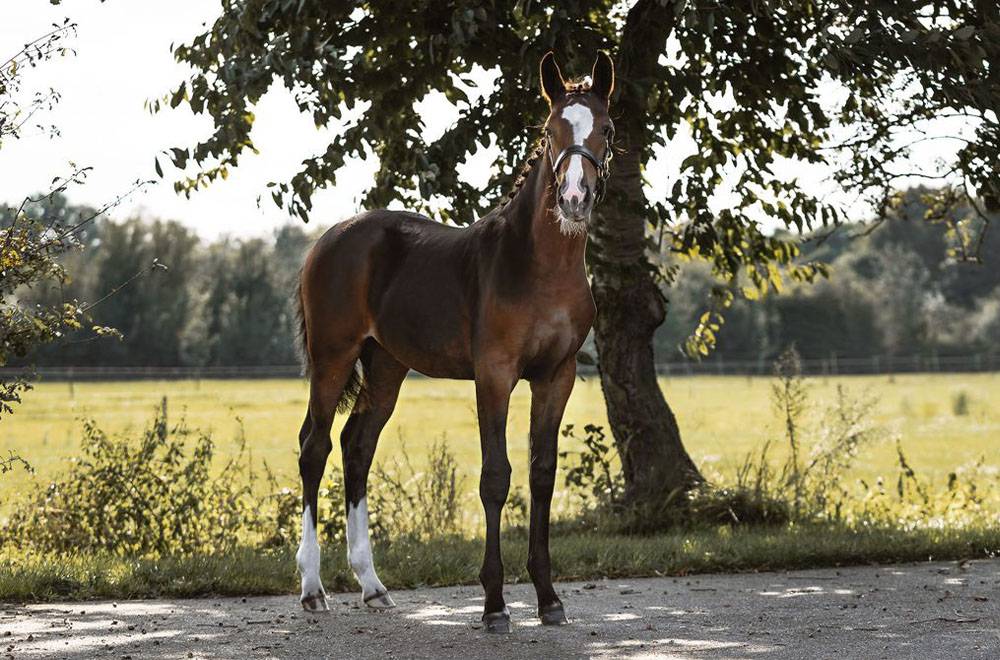 12 October 2021
For the first time, Ekestrian gathers 44 lots with exceptional genetics, choose your champion!
First filly by Maia, full sister of the exceptional Darry Lou, winner of the CSIO5* 1.60m Grand Prix in Calgary with Beezie Madden; female implanted embryo by Chacco Blue x Diarado x Nabab de Rêve with a daughter of Merveille de Muze CSI 1. 60m and a daughter of Qerly Chin herself; embryo implanted from the line of Cordula de Laubry, Cumano with the first daughter of Malissa de Muze, CSI5* 1.55m in Aachen 2021 at 9 years old with Lorenzo de Luca and sister of 9 performers 1.50m to 1.60m, and many more!
Access the catalogue here : https://bit.ly/3AKHZvb
24 foals to be born in 2022 including 6 females, 9 foals including 5 females, 6 frozen embryos, 4 broodmares as well as for the first time, a stallion approved at the BWP, SF, SBS and NRPS studbooks, Triomphe de Muze!
These lots represent the best bloodlines in sport and breeding: Usha van't Rooosakker, Qerly Chin, Fragance de Chalus, Carthina Z, the damlines of true champions like Toulon, Cumano, Jade vd Bisschop, Venue d'Fee des Hazalles, Mumbai, Chacoon Blue, associated with the best breed leaders and champions like Chacco Blue, Cornet Obolensky, Diamant de Semilly, Heartbreaker, Quick Star, Baloubet du Rouet but also the current Balou du Reventon and Grandorado TN.
Overview of the catalogue :
- Female by Chacco Blue x Comme Il Faut with the direct damline of Diamanthina van't Ruytershof, winner and ranked in CSI 1.60m with C. van Paaeschen and full sister of Emerald! Damline of Le Blue Diamond, bronze medallist of the 2021 European Championships, Kentucky van't Ruytershof CSI5*, Iluisionata van't Meulenhof 3rd in GP CSI5* 1.60m
- Filly from the damline of Narcotique de Muze II and Qerly Chin ! Grandorado x Vigo d'Arsouilles x For Pleasure x Darco with the sister of Hocus Pocus de Muze CSI 1.60m with Harrie Smolders, Iceman de Muze CSI 1.60m, Go Easy de Muze CSI 1.60m with Darragh Kenny, daughter of Teekitiezzie de Muze CSI 1.45m, and grand-daughter of Narcotique de Muze II
- Female implanted embryo by Chacco Blue x Cornet Obolensky with a daughter of Gatoucha vh Roosakker (sold for 570 000€ in December 2020)! One of the best damlines of Usha van't Roosakker
- Rare! First daughter of Maia, full sister to the exceptional Darry Lou, winner of the CSIO5* 1.60m Grand Prix in Calgary with Beezie Madden!
- Comme Il Faut x Boyante de Muze, CSI5* 1.60m, dam of Estoy Aqui de Muze HDC CSI5*1.60m with Kevin Staut and S&L Cocodrille CSI 1.50m-1.60m, daughter of Narcotique de Muze II !
- Female implanted embryo by Toulon x Kannan x Diamant de Sémilly x Laudanum, with Casablanca du Cèdre, CSI 1.35m and sister of Dubai du Cèdre, CSI5* 1.50m at 8 years old and vice-champion of France of the 7 years old with Margaux Rocuet, damline of the winner in Grand Prix CSI5* 1.60m Quickly de Kreisker
- Triumph of Muze, BWP, NRPS, SF, SBS approved stallion, 1.50m Grand Prix winner, sire of 10 1.60m performers, brother of Tottori de Muze classified CSI5* 1.60m, by Chin Chin x Galoubet, damline of Ifrane X! For auction with 500 frozen straws!
- Daughter of Djobie de la Roque, sister of Rosaline du Park winner in Grand Prix 1.50m and daughter of Nikita du Park classified CSI 1.50m! Damline of 1.60m performers including Rosana du Park with Eric Lamaze, Diabolo du Park II, Tisele du Park and many others
- Damline of Chilensky, winner of the 1st class of the Tokyo Olympics with Koki Saito! Broodmare in foal to Cornet Obolensky, by Sir Shutterfly x Chacco Blue, sister of Diachron CSIO5* 1.60m, Diarco Blue CSI 1.50m and Diacco-Blue clear CSI 1.45m, line of performers including Chilensky, Chacoon Blue, Connecticut 15
And many others, to be discovered on www.ekestrian.com !
The auction will take place 100% online and will start on Tuesday, October 26th at 11am (French time) and will end lot by lot, minute by minute on Wednesday, October 27th at 9pm (French time).
Don't forget to create your account and/or update your details on the website to be able to access the catalogue and bid during the auction: https://bit.ly/3DzaTjC
Information and price estimates from the Ekestrian team at +33.7.86.32.75.17 or [email protected]