Abdel Said honors his change of nationality in Grimaud!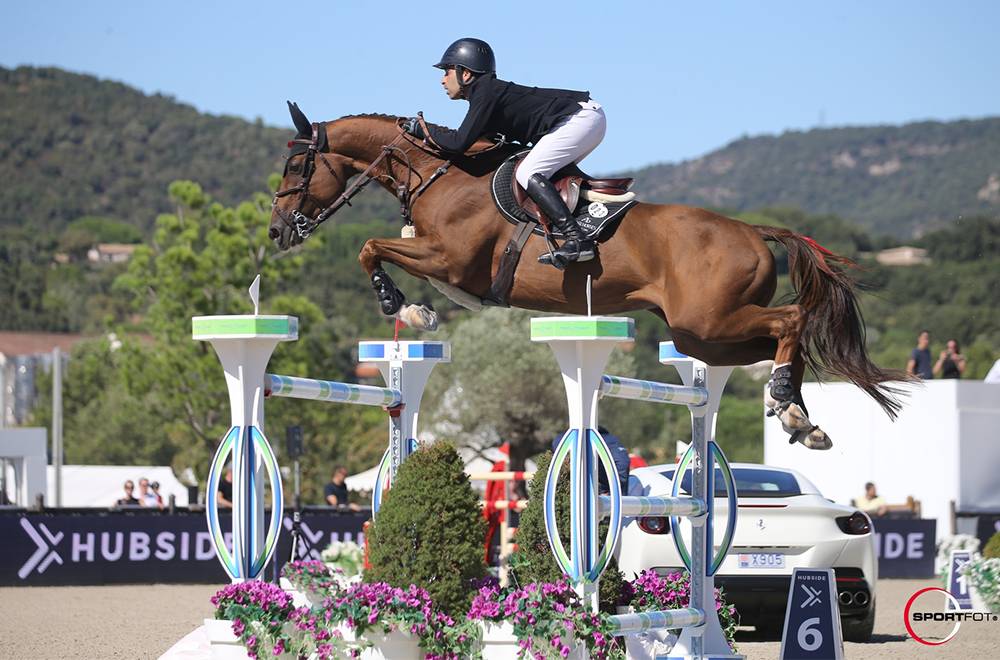 20 September 2021
The 5* competition program was full across the globe this weekend. Daniel Deusser won the legendary Aachen Grand Prix (article to come soon on studforlife.com), and in Rome and Grimaud, the victories were French and Belgian respectively.
Grimaud CSI5*
A master stroke from Abdel Said at his first attempt: the rider, who broke through on the international scene under Egyptian colors, posted his first victory since his change of nationality a few weeks ago. Riding Bandit Savoie (Qlassic Bois Margot), the 39-year-old rider, who now defends the Belgian flag, posted one of the most beautiful victories of his career in the CSI5* Grand Prix in Grimaud. Mark Mcauley and René Lopez also had double clear rounds on courses designed by Spanish course designer Javier Trenor.
Rome CSI5*
Olivier Robert and Vangog du Mas Garnier ©Sportfot.com
He's the tricolor man of the moment! After a perfectly well-honored selection for the French team at the European Championships in Riesenbeck, Olivier Robert won the 5* Grand Prix in Rome. Already a winner of a Global Champions Tour Grand Prix last May, the Aquitaine native this time won with Vangog du Mas Garnier (Cornet Obelensky), coming in ahead of Malin Baryard-Johnsson and Bryan Balsiger. All this took place against a breathtaking backdrop of Roman architecture!
Spruce Meadows CSI5*
Mario Deslauriers and Bardolina 2 ©Sportfot.com
At Spruce Meadows, it was the third consecutive 5* Grand Prix after the one that's part of the Rolex Grand Slam took place last week, and it wasn't a walk in the park for the competing pairs. At the end of the first round, designed by Canadian Peter Grant, only four riders qualified for the jump-off. Finally, on his home turf, Mario Deslauriers won the only double clear round with Bardolina 2 (Clarimo Ask). Australian rider Katie Laurie took the second step of the podium, ahead of young Mexican rider Hank Carlos Guerreiro.
Traverse City CSI5*
Despite the largely American dominance in the 5* Grand Prix in Traverse City, Paul O'Shea managed to find his way to the second step of the podium. The Irishman couldn't do better than Brianne Goutal, who rode Viva Colombia (Couleur Rubin), but he was able to beat Lauren Hough.
Maubeuge CSI3*
Leon Thijssen and Faithless MVDL © G2S Photographe
The Maubeuge international, which is usually held in spring, had been shifted to September this year, but it did go ahead! Thanks to its proximity to the Belgian border and the port of Calais – which allowed British horses to get to the continent - many foreigners had made the trip. The Grand Prix was finally won by Dutchman Leon Thijssen on Faithless MVDL (Ukato), who was almost two seconds faster than British rider James Wilson on L'Amour (Lordanos). Almost competing at home, Guillaume Foutrier took third place with Chartraine Pré Noir, a daughter of Kannan that he has been riding since May.
Gorla Minore CSI2*
600km away from the Roman CSI5*, Gorla Minore hosted 2* classes as part of the traditional autumn tour. In the Grand Prix, the Swiss showed their supremacy by taking the first two places. Edouard Schmitz and Babylone des Erables (Umbrella des Erables), the only pair to have lowered the jump-off time below 37 seconds, took the lead over their compatriot Paul Estermann.
Peelbergen CSI2*
Bart van der Maart and Chicago 162
The Peelbergen equestrian complex once again hosted a CSI2*, the Grand Prix of which was won by Bart van der Maat with Chicago 162 (Casall). The Dutchman beat another of his compatriots, Manon Hees with Echo vh Gerendal Z (Echo Van T Spieveld). Brazilian Thiago Ribas Da Costa completed the podium with Mallito, a son of I'm Special de Muze.
Bonheiden CSI2*
In Bonheiden, Belgium, Irish rider Richard Howley and Arlo de Blondel (Tlaloc M) won the Grand Prix in a 12-man jump-off. Dutch riders Jack Ansems and Jody van Gerwen, riding Fliere Fluiter and Inebelle van'T Welthof respectively, took second and third place.
Featured photo: Abdel Said and Bandit Savoie ©Sportfot.com