In Aachen, the USA forced victory!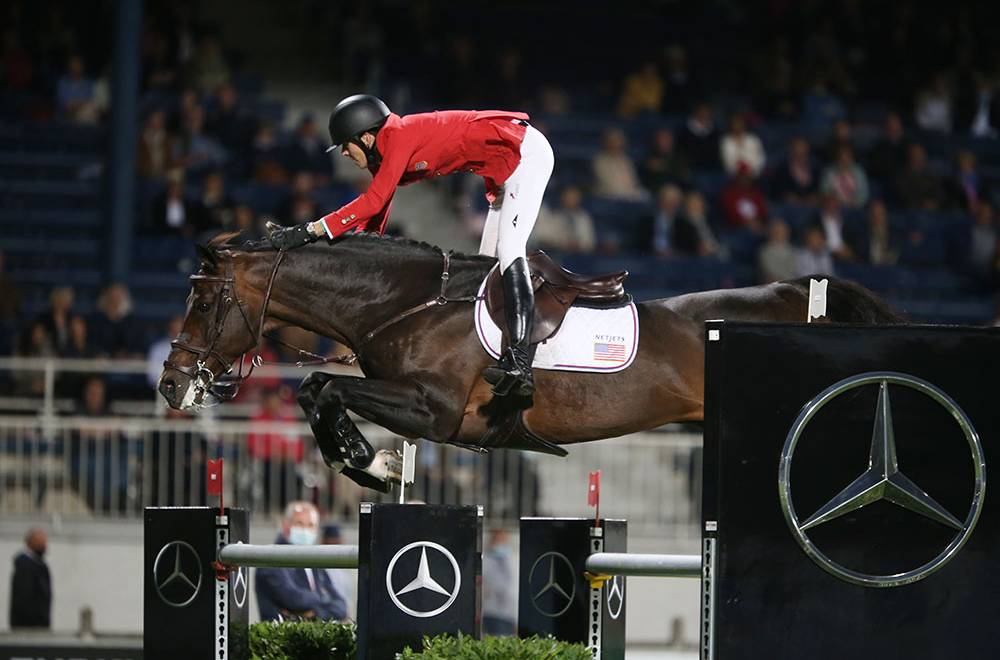 17 September 2021
Olympic Games, European Championship and Aachen, three events that let some young people take their chance on big events ... some have seized it, others not, but Aachen remains a place apart where history is written.
It was one of the big questions around, but Aachen has gone ahead! The organizers had limited the capacity of their legendary stadium to 50%, which resulted in a far more muted atmosphere than usual. Aachen remains unique and these circumstances only increase this experience that is incomparable to any other event.
Moreover, Aachen has once again innovated against the current. In the midst of an event industry in crisis, the CHIO has increased its prize pool for the Nations Cup to 1,000,000 euros! 900,000 for the event itself and 100,000 euros to be shared between the double clear rounds: hats off to you!
But Aachen's magic is also found in its twists and turns and there were a few! Germany was on a royal flush with World No. 1 Daniel Deusser who had achieved a clear round with Killer Queen... but then a little later, Marcus Ehning didn't enter the arena! The other-worldly rider, who was supposed to start with A la Carte, had a fall in the warm-up ring. His horse is doing well, and the rider is as well, although he was stunned. In the end, he didn't take part in the event: Germany had three riders compete in front of its home audience. "The second Marcus fell, there was a doctor by his side. Treatment happened very quickly, and he's fine. It's possible that he will be a little stiffer when he gets up tomorrow morning... we'll see. He has experience, he will decide with the doctors if he'll ride in the next few days or not (Editor's note: Marcus decided not to ride the rest of the weekend). A la Carte was also taken care of straight away by the veterinarians and the grooms, he is also doing very well," reacted Otto Becker who didn't expect to have such an eventful evening. "We had a lot of ups and downs on Thursday night. It was the first time this year that Christian Ahlmann was part of the team, I thought that Clintrexo jumped even better in the second round, but he's a very sensitive stallion and he was disturbed by the neighing of Balou du Reventon who was at the entrance. That's part of the sport, we're not complaining about that at all, we will try to do better next time." Even with three riders, Germany had made its fans dream, but the last two candidates had 8 and 12 faults each, and demoted the host country to sixth place in the rankings.
As always in a Nations Cup of this level, only the clear rounds count and allow you to stay in the lead. Belgium could have been the favorite with its four Olympic riders and three of their leading horses, but Niels Bruynseels and the sister of Emerald and Diamanthina van't Ruytershof, Illusionata van het Meulenhof (Lord Z) left each round with 4 faults, while Pieter Devos and Claire Z missed the mark this evening, with eight faults in each round. During the first round, Jérôme Guery and Gregory Wathelet saved the day with two clear rounds... but during the second round Quel Homme de Hus (Quidam de Revel) couldn't avoid notching up a fault. The last Belgian to start, Gregory Wathelet, was still in with a chance to secure a place on the podium but, a clear round was mandatory. Nevados S (Calvados Z) kept the pressure on until the last obstacle which fell, causing Belgium to take 4th place!
Up front, France came back from nowhere, sitting in sixth after the first round and looking moribund after a disillusioning round from Laurent Goffinet, who was finally making his comeback in Aachen. Unfortunately, the entry to the triple didn't go as planned and Atome des Etisses (Mylord Carthago) didn't want to come back to him, leaving France with three riders to count on. However, one quickly forgets that only one rail separated them from the three teams ahead. Though Kevin Staut had to settle for a two rounds each with 4 faults with Visconti de Telman (Toulon), Marc Dilasser did far more than just save the day. He's a very consistent rider, although the Norman hasn't always had the chance to express himself at the highest level, but by achieving one of the five clear rounds of the event, he proved that he can be counted on with Arioto (Diamant de Semilly). It only remained for Nicolas Delmotte to seal the score. The Northerner would do it in the most beautiful way with the maximum amount of pressure on his shoulders because, whatever happened, his score would count. He too made a clean sweep, taking France to an unexpected podium!
The Swedish performance was also unexpected. Looking at the list of starters, one could think that this time Henrik Ankarcona's team was bait! But the young Chef d'équipe knows how to use his troops and since he took office, he has impressed. He has been able to rally a large number of riders to whom he dares to give a chance. Deprived of all their Olympic and European stars, the Scandinavians arrived with a very inexperienced team, but they impressed once again. Only two weeks after their 5* Grand Prix debut, Petronella Andersson showed all the potential of Castres vd Begijnakker (Coriano Z) whose lack of experience was felt despite an honorable result of 8 and 4 faults. Annika Axelsson could have felt insecure after a bad experience two days earlier when Cleo Z (Clintissimo Z) was getting to know the grounds, but the pair still came through with two 4-fault rounds. But in front, there are two good riders! Jens Fredricson is none other than Peder Fredricson's elder brother and he too has ridden at the highest level, representing Sweden at the 2012 Olympic Games. He achieved a double clear round with his inexperienced mount Markan Cosmopolit (Cohiba) and was imitated by the rider who ended up being nicknamed Mrs. Aix: Angelie von Essen, who was all smiles at the exit of her second clear round! A member of the winning team in 2019 with Luikan Q, a total unknown at the time, she returned with Alcapone des Carmille (Diamant de Sémilly), who was acquired a year and a half ago from Henk Nooren. The powerful Selle Français impressed, and the Swede has once again showed her ability to find good horses and train them.
Henrik Ankarcona could only be proud of his troops: "Honestly, I have no magic formula, but I think I have a system in place where we allow many pairs to prove themselves at a high level without burning them if they don't do well the first time. They know that if they miss at their high-level debut, they will get another chance later. I also think that my role and that of my staff is to do everything we can so that the rider is in the best condition for their event. Once they are on course, they have to manage on their own, we can't do anything more for them. Four weeks ago, we decided that the Olympic horses would not jump here. Obviously, they're jumping in Rome... but let's be honest, Rome and Aachen are incomparable. During this season, Jens told me several times that he was ready, but I thought that the horse still needed to gain experience, he kept on jumping 3* events... then here, when an opening came up, I called Jens, I asked him: "Are you ready?", he immediately answered "Yes, I'm ready, and this is the result. It's obviously very pleasing. Now, I'm realistic too, there are always ups and downs and with every clean round you get closer to a four-fault run, that's part of the sport but we're having some great moments."
Out in front, the USA resisted. However, until the last starter, things weren't so easy. When the immovable Laura Kraut started, things were very simple: no faults, the USA won, one rail, there was a jump-off between the USA and Sweden - a small rerun of Tokyo that the rider preferred to avoid – and if there were two faults, Sweden won. In the first round, the American had a complicated entry to the triple where Baloutinue (Balou du Rouet) preferred to put in another stride. But this time, the pair had a sumptuous round: the victory came 16 years after the last (and Laura Kraut was part of the team then too!). This time, she was accompanied by three rookies who discovered the wonder of Aachen! "When we were in quarantine, before we left for Tokyo, we had drawn up this team plan and I told them that a victory was possible," said Laura. Jessica Springsteen, a member of the silver medal-winning team at the Games, has been racking up success after success. After a clear in the first round, Jessica and Don Juan vd Donkoeve (Bamako de Muze), grandson of the Grand Prix mare Utopia vd Donkhoeve who also jumped in this arena, had to settle for eight faults in the second round. Behind them, Lucy Deslauriers couldn't avoid knocking a rail down after her first round was clear on Hester (Wandor vd Mispelaer), while young Brian Moggre achieved a remarkable double clear round with a bouncy Balou du Reventon (Cornet Obolensky), who was more explosive than ever, to the great joy of his young rider.