Aachen organizes training sessions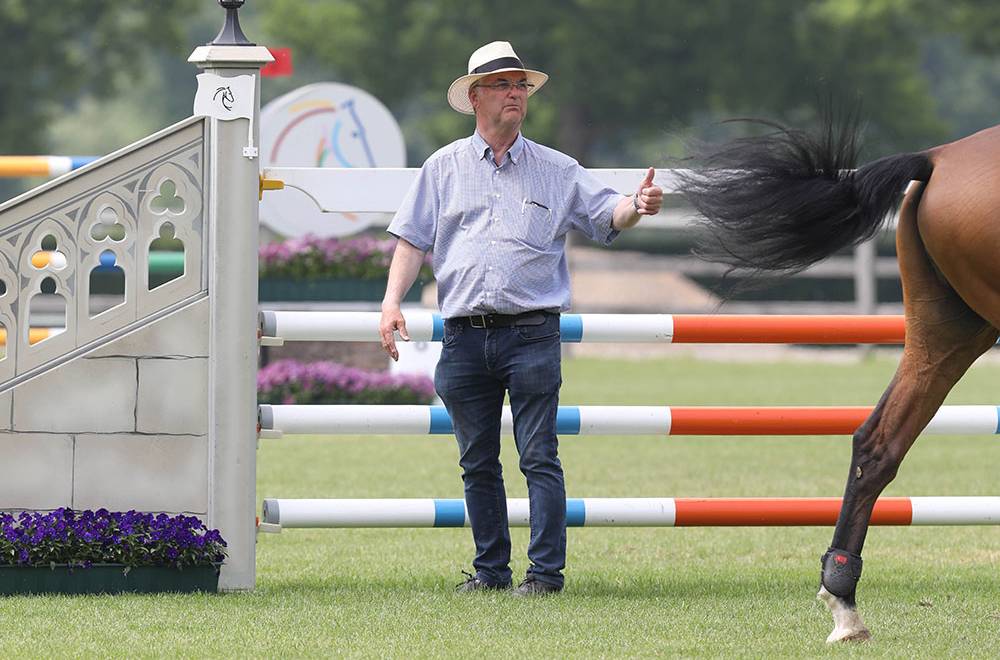 27 May 2020
For the past two weeks, the Aachen CHIO committee have had a great training ground set up on the driving track of the stadium. The best German, Belgian and Dutch stables as well as several foreign riders living in those three countries, including riders such as Henrik von Eckerman and his partner Janika Sprunger, as well as several Brazilian riders have been able to take advantage of the facilities.
One of the men behind this project, German Peter Weinberg, Belgium's Chef d'équipe, explains:
"When the committee was forced to cancel the CHIO, we wanted to do something for the sport. Today, with the first phases of decontainment and football clubs resuming training and even having matches in Germany, the committee decided to organize training sessions at Aachen for the best German, Belgian and Dutch riders. Then, when foreign riders living in those countries asked if it was also possible for them to attend, I obviously agreed. We had to have the agreement of all the authorities involved. Each rider can take 10 horses and can of course come with one groom. Some owners came to see their horse, but nevertheless, we strictly limit access to the minimum amount of people allowed. We understand that there are many fans in the Aachen area who would like to attend these training sessions, but unfortunately, that is not possible right now."
What exactly is your role and how did you decide to bring the Belgian team to this training set up?
P.W.: "I'm responsible for the Belgian team's planning, while Otto Becker oversees the planning of the German team riders and Rob Ehrens plans for the Dutch team. These training days have been very beneficial. Every week, Frank Rothenberger designs a course and we take advantage of this to work on the terrain. I'm very happy with how these days are going. All of the A-team that are eligible to compete in the Olympics have already been. I didn't demand anything, but most of them came with their best horses. Delux van T&L, Claire Z and Igor came here. The idea wasn't to get them to jump huge courses. Igor, for example, hasn't jumped in competition since Mechelen... which was at the end of last year. They jumped very well. They're fresh and in good condition. The training has been very interesting and besides the best horses coming here, it has also allowed me to see younger horses that I don't often get to see on the four- and five-star circuit. I even discovered some very promising five- and six-year-old horses that some riders were able to bring."
How do you see life returning to normal?
P.W.: "I think things are going to change from day to day. Containment has been stricter in Belgium than in Germany, but gradually things are opening there as well. In Germany, restaurants and swimming pools have just reopened. Large events are banned in Germany and Belgium until the end of the Summer, but what about other events? We must wait and see. It is impossible to predict how things will develop, every day there will be new changes and we will have to adapt."