65th BWP Stallion Selection.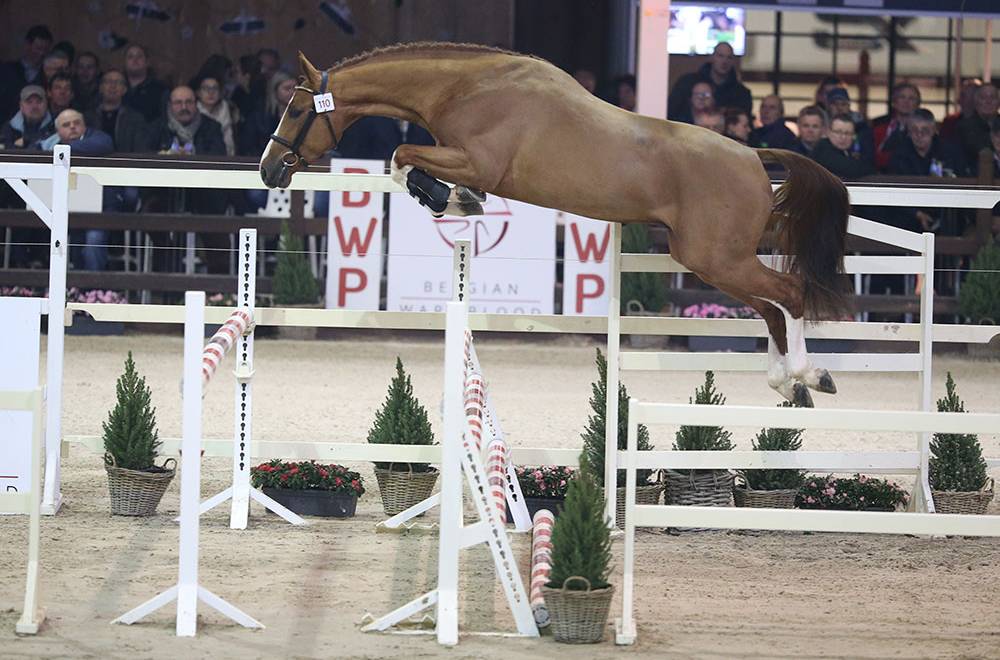 23 January 2019
This weekend, the BWP held the second phase of its 65th Stallion Selection at Azelhof's facilities in Lier. The very good performance of Mathias Wentein at the microphone should be noted, as he managed to bring a little dynamism to these long days.
The jury was composed of Messrs De Smet, Bode and Van den Broeck, while Tim van Tricht (Tiji breeding) was present as an intern for a record-breaking session with no less than 155 candidates registered for the second and third phase.
The second phase is restricted to three-year-old candidates and 55 of them received permission to run in March, including 47 jumpers.
We have decided to introduce you to the horses who caught our attention, although it should be said that the excellent quality all horses presented could have allowed us to add several more to our selection:
14. Quito de Mariposa
Comme Il Faut x Air Jordan x Baloubet du Rouet
Good-looking horse, supple and with strength.
22. Querido VG
Dominator 2000 Z x Chellano x Darco
Uterine half-brother of the stallion Leandro VG, Querido shows a very good technique as well as a nice bascule and a little flair.
From the line of City Banking, Gitania VG, Hidalgo VG and his dam Alaska VG, which all performed at the highest level.
24. Quartz van't Ruytershof
Elvis Ter Putte x Bamako de Muze x Diamant de Sémilly
Very fast in front with a very good technique and a lot of ability, Quartz comes from the very famous pedigree of Carthina Z, which has given us Emerald van't Ruytershof, Illusionata and Nixon van't Meulenhof, as well as Diamanthina van't Ruytershof who is none other than the granddam of this young stallion, while his dam Brillanthina runs for the Belgian junior team.
26. Qartoon de Muze – 1m72
Elvis Ter Putte x Voltaire x Ramiro
Massive horse with huge abilities. He is a uterine half-brother of the stars Carlos VHP Z and Don VHP Z, who became BWP ambassadors this year.
31. Quickly van't Zorgvliet – 1m68
Flipper d'Elle x Skippy II x Libero H
One of the revelations of this selection, showing strength, technique and suppleness with a brilliant performance. Uterine half-brother of the stallion Dorée van't Zorgvliet and of the dam of Kevin Staut's protégé, For Joy van't Zorgvliet. He joined Zangersheide for €46,000.
37. Que Si Que Non van't Meulenhof
Herald III x Quidam de Revel x Chin Chin
One of the rare sons of Pilar Cordon's former star horse, out of Ludo Philippaerts' former Grand Prix mare, Narcotic IV de Muze, herself a daughter of Qerly Chin. He showed a lot of respect, strength and concentration in his work.
52. Qatar van't Paradijs
Mosito van't Hellehof x Kashmir van't Schuttershof x Lys de Darmen
Top price of the auction, he joins Harry Theeuwes of the 111 stud for €162,000. During his performance, he showed ability by using his body very well. He comes from a uterine half-sister of Venizia and Agatha d'Ecaussines, as well as Subliem and, of course, Ultra Top van't Paradijs, all from the former international Prima Donna van't Paradijs, also granddam of Yves Vanderhasselt's star Jeunesse.
63. Que Alto van't Schaeck
Ugano Sitte x Diamant de Sémilly x For Pleasure
He showed strength and suppleness during a very good performance. His great-granddam is none other than Harrie Smolders' star, Walnut de Muze.
Among the stallions from other studbooks:
98. Comathago van de Helle – 1m74
Comme Il Faut x Carthago x Lord
Good performance from a horse that showed strength and bascule.
100. Dobro
Darco x Cornet Obolensky x Granit
Consistent and focussed, he showed a lot of ability.
110. Oak Grove's Heartthrob
Heartbreaker x Artos Z x Ramiro
Very good performance with very good technique and a lot of ability. His granddam is Zangersheide's star Rinnetou Z, who is also the granddam of the recently retired All Star. Stephex acquired the Hannoverian stallion for €108,000.

During this selection, the new GFE recruit Bush vd Heffinck (aka ABC Conquistador par Clinton), who was making his return to Belgium after his Australian exile, and Harrie Smolders' star Don VHP Z (Diamant de Sémilly) graced the breeders with their presence, receiving at the same time the title of BWP ambassador stallion.