45 candidates selected for the third BWP selection phase.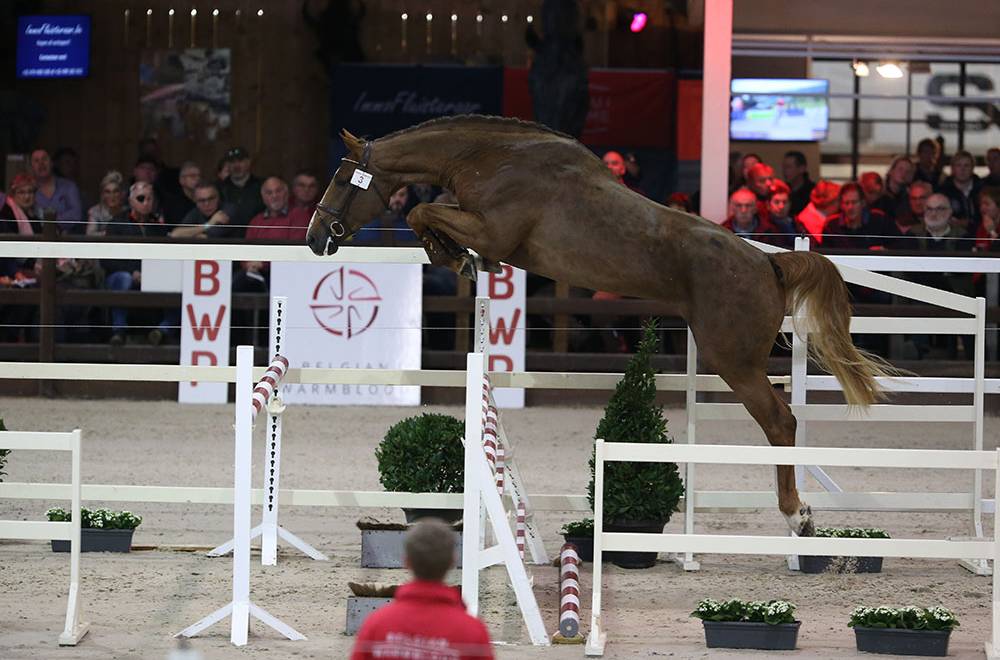 22 January 2020
Faced with the plague of over-preparation, the BWP tried a new approach with a warm-up on Wednesday, where the candidates were introduced to a jump course that they were able to jump a few times, with those that were a little too demonstrative have a few extra turns. It's an interesting idea, except that it demanded a lot of these young horses who are just starting their 3rd year. As a result, we ended up with several very disappointing performances on Saturday, especially as the ground staff often looked as tired as the horses due to this work overload.
A selection phase that has seen many young stallions' offspring, including the eagerly awaited, but somewhat disappointing first crop from Nixon van 't Meulenhof (Denzel van 't Meulenhof x Carthago). Of his three sons that were presented, only one will be coming back for the third phase: Rio vd Zwartbleshoeve, whose dam Mercedes van 't Zorgvliet (Clinton x Heartbreaker) is a maternal half-sister to Kevin Staut's star stallion, For Joy van 't Zorgvliet, while their granddam is a full sister to the stallion Dorée van't Zorgvliet. This stallion put in a very nice performance on Friday, showing a good swinging action worthy of his father, but he was less demonstrative the following day.
Among the 2020 candidates, we noted the very stylish Replay van 't Paradijs (Bamako de Muze x Emerald van 't Ruytershof x Heartbreaker), from the internationally performed Jeunesse van 't Paradijs (Emerald), who successfully progressed under the saddle of Lorenzo De Luca; he showed a lot of flexibility and a lot of ability by being very regular in his performances.
Ruud DC (By Cera d'Ick x Mylord Carthago x Darco) also put in a good performance and showed great ability by using his body well.
Rocco vd Bisschop (Chaccoon Blue x Jenson van 't Meulenhof x Diabeau), from Quelle Dame vd Heffinck's line, also had a very interesting start: a horse with a lot of ability that put in a nice performance where he showed that he knew how to manage a body that could seem a little heavy at first sight.
The rest of the catalogue, however, was much quieter, with much less impressive lots, even though we noted Rock Star van 't Keikelhof (For Pleasure x Power Light) in particular, who is none other than Flora de Mariposa's full brother, but he didn't seem to have the same energy as the latter, even if he knew how to use his body well.
Iron Man vd Padenborre (Darco x Chin Chin) will be able to count on two sons to represent him in the third phase, including the powerful Riesling van de Gaathoeve, who is bred on a 4x4 cross to Draisienne, André Leemans' foundation mare.
Malito de Rêve, By Cera, and Comme Il Faut are the other 3 stallions that will be represented by two offspring in March.
The mare Litchi de la Linière (Filou de Muze x Tinka's Boy x For Pleasure) also has two products qualified for the second phase. Out of Querly Chin's strain, she is a daughter of the international Heroine de Muze. She can always count on 57, Risk de la Linière (Satisfaction) and 46, Reborn de Muze (Malito de Rêve).
Among the foreigners, of note is the particularly impressive Selle Français, Happy Landais (Andiamo Sémilly x Helios de la Cour x Socrate de Chivre) who showed good technique, suppleness and blood during both days.
It is also important to mention the very pleasant Cold as Ice King Z (Comme Il Faut x Carthago x Ramiro), a maternal half-brother to Judy Ann Melchior's star As Cold as Ice Z, who combined strength and flexibility during both days.
Here too, young sires stood out, especially Eyeball vd Moervelde Z (El Barone 111 Z x Der Senaat 111 x Darco), from the van 't Merelsnest line, who combined strength, technique and swing.
This was also the case for Explosive VDB in de Bus Z (Eternity of the Lord x Nelson Z x Ksar Sitte), whose granddam Rush On du Houssoit competed to 1.50m, and who is a sister to Rexar du Houssoit but also a maternal half-sister to the former international performer, Panama du Houssoit, Tic Tac du Seigneur's dam. The latter had a very good first day, showing strength and flexibility, before a less impressive session the next day.
And last but not least, Gancia de Muze's grandson, and Hicksteadt's brother, Gancio van't Smisveld Z (Gino H x Nabab de Rêve x Malito de Rêve) who showed his quality and ability.