4-year-old Belgian Championship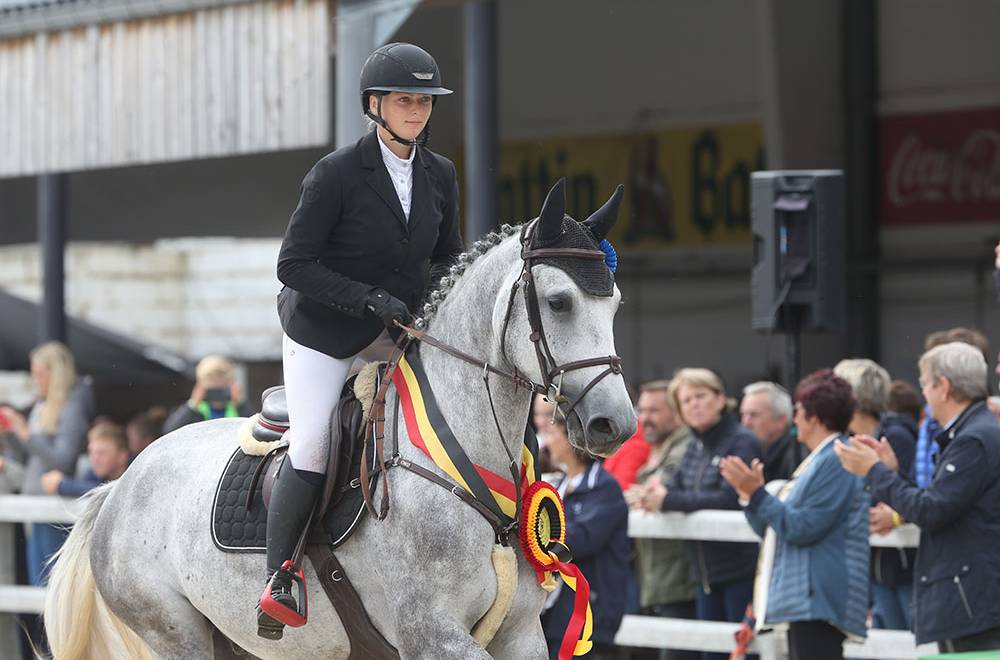 26 August 2021
After a year of exile due to the pandemic, the Belgian Championship for young horses was back in the province of Namur, at Gesves Riding School. The event was separated from the 7-year-old Belgian Championship which remained at Opglabeek's Sentower Park, and which was contested the week before in parallel with the first CSI4* organized at the Limburg facilities. It was an adaptation that allowed for the finals of the three championships for the 4- to 6-year-olds to be held on the same day. A positive change of format despite a very early start for these finals with the first 4-year-old going out at 8:30 am... it was a formula that pleased, with a very large audience throughout the day, which was good to see.
During this first final, the young 9-year-old stallion from Groupe France Elevage (GFE), Candy de Nantuel (Luidam x Diamant de Sémilly), had no less than three offspring from his first crop placed among the 50 best horses at this championship, while he himself placed 6th in the 2* Grand Prix of Valkenswaard under the saddle of Pénélope Leprévost.
Twelve of these finalists won the title of 4-year-old Belgian Champion, having achieved no less than four rounds without penalty. Among them, two products of veterinarian Erik Degeneffe's breeding program: Qasimo de l'éau Z (Z - Quasimodo Z x Mr Blue) ridden by Daisy Bruyninx and Cristiano de l'éau Z (Z - Cantaloupe x Ustinov) ridden by Thomas Mertens, both from two different lines. Also noteworthy were the athletic qualities of the impressive Cigaristo JVH Z (Z - Cigaret JVH Z x Levisto Z) ridden by Kelly Dejongh that we'll have to follow closely in the years to come.
Samantha Detheux also made a great comeback at the finals with two horses, both from Emmanuel Wera de Verlaine's stud. She left with a championship title going to Crack de la Hamente (Z - Cicero Z x Socrate de la Chivre): "This title is quite simply unexpected. My wife introduced me to Samantha Detheux for a van rental at the beginning, then one thing led to another. We have built a small and friendly team where we have maintained a good atmosphere and we have been rewarded. We are very happy today. Our goal was to qualify for this championship. To get this far is the icing on the cake. Crack is a horse with a good mind and a lot of strength. It's a line that we are focusing on even though we still have other lines at home. Obviously, breeding is still a hobby. We are farmers and we are developing a pony club and our breeding program in parallel even though we are also building a new indoor arena with 60 boxes," explained Emmanuel Wera.
Sacha Beghuin, who came to Gesves with just the one horse, was satisfied with Little Baby d'Alphi (SBS - Greco Sitte x Ugano Sitte). Her objective was fully achieved: "We bought this horse at three and a half years old. He had been broken in for two months when I saw him on Facebook. I sent them a message, and we went and bought him. We didn't participate in the cycle; this is only his fourth or fifth competition. For now, there is no clear plan for the horse; selling him is a possibility, but we can just as well keep him to jump higher in the future. I have been based in Jodoigne at BVM Stables for two years and we now have 17 horses in work."
The other winners are: the powerfull Illuminati van den Dries Z (Z – Iron Man vd Padenborre x Vigo d'Arsouilles) with Logan Leemans , Baron - RR Z (Z – Bamako de Muze x Diamant de Semilly) ridden by Katrijn Van Hoecke, Hahiko des Tanrieres (SF - Balou du Rouet x Kannan) entrusted to Morgane Lheritier, Ti Amo Di Magico De Res Nova Z (Z – Tangelo vd Zuuthoeve x Jilbert van't Ruytershof) under the saddle of de Frederik Wuytack, Roman T (BWP - Aganix du Seigneur x Toulon) ridden by Geoffrey Cobbaut, Baloubette van de Begijnakker (Z – Balou du Rouet x Comme Il Faut) with Cedric Vanleerberghe and Guline Z (Z – Georges Z x Utrillo Z) with Mathis Burnouf.
Among these 12 winners, we note the domination of the Zangersheide studbook with nine representatives, one SBS, one BWP and one... Selle Français!